Industrial Coating Capabilities
Broad experience with personal attention
We outpace the coatings industry in application expertise, coating
capability and customer satisfaction.
If you compare feature by feature, Toefco's capabilities clearly outpace the coatings industry in application expertise, coating capability, and customer satisfaction.
Application technology
Minimum cost and maximum flexibility are the dual goals of Toefco coating technology. At Toefco we have a wide range of options, from hand application to highly automated coating systems; we bring cost effectiveness to quantities from a single part to components in the millions.
High volume coating for cost savings on small or large parts
Low volume coating on components of any size
Job shop for custom parts from 1 piece to thousands
Overhead conveyors to automate coating of small and large parts
Chain on edge automation for small parts in the millions
Bulk coating via rolling barrel at a low unit cost
Over 20 ovens are available to deliver quick turnarounds in any quantity.
Coating variety
The coating engineers at Toefco have a track record in the application of 400+ coating types, with status as a Whitford-approved ExcalNet applicator of the Excalibur Coating Process. Over the past half century of coating experience, our applicators have applied literally thousands of different coating formulations.
Custom formulation
In many applications, Toefco engineers formulate a unique blend of coating chemistries for maximum performance to a specific standard. Custom formulation and application engineering have been our passion for nearly 60 years, largely because of the satisfaction customers experience from a coating that delivers better protection, longer life, and improved performance in the finished product.
Call us the coating customizers because whether it is a metal coating or powder coating, we engineer coatings to precisely fit the performance needs of each application. Toefco's wide range of coating types, applied by automated equipment, make superior coating more affordable.
If you have any questions about our industrial coating services or industrial coating capabilities for your next project, then contact one of our Toefco industrial coating engineers today.

Low Volume Coating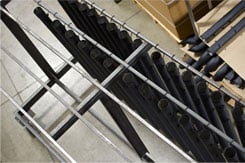 High Volume Coating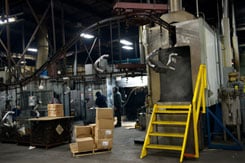 Overhead Conveyors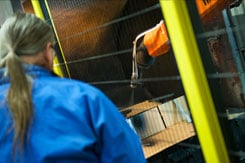 Chain on edge